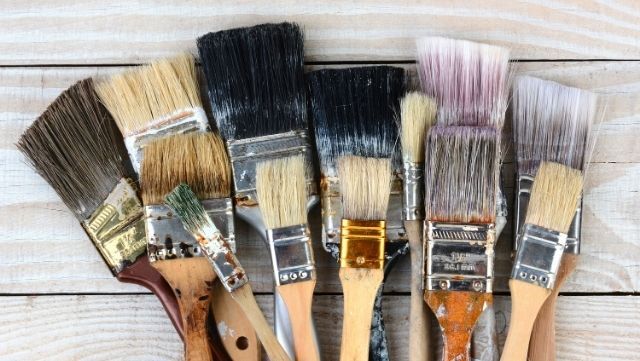 Brushes are objects that have been used in every field from past to present, with different sizes, different colors, and different areas of use. The word brush is defined as "a tool made of bristles and the like, which is used to remove dust, dirt or paint, polish something, and bonded together". You can find general information about brushes in this article.
Brushes According to Usage Areas
If we classify the brushes according to their intended use, we can summarize them as makeup brushes, hair brushes, makeup cleansing brush, whitewash paint brush, toothbrush. These brushes, which are also sold in brush sets, have a wide place in our daily lives.
There are different hair brush types for each hair type. You can keep your hair healthy if you use the right one for your hair.
Makeup brushes
Makeup brushes have always been one of the accessories women use to highlight their beauty. There are many types of makeup brushes such as eyebrow brush, foundation brush, blush brush. The role of makeup brushes in various colors and sizes for home use and bag sizes produced by different brands cannot be denied in women's lives.
How to clean makeup brushes?
Squeeze a dollop of gentle shampoo into a glass/mug and fill with warm water. Swirl your brushes in the water and gently massage the bristles to further remove the gunk. Rinse with clean water and carefully squeeze the water out. Lay flat to dry.
Paint brush
Paint brush used in painting and whitewashing is an essential material for painting interiors and exteriors, changing the air of the house, or renewing the walls. A roller brush is preferred for large surfaces, while a whitewash brush should be used for narrow surfaces. Paint brushes are selected according to the structure of the application area and the type of paint. Apart from the short pile, real, or plastic bristle brushes, there are also plastic roller or non-drip roller brush alternatives. For painting and whitewashing, one of them is selected according to the needs.
Paint brushes suitable for the branch of art to be made are used for painting. It is usually sold as a set of brushes. There are countless paint brushes according to their quality and size. Varieties such as oil paint brushes, gouache paint brushes, watercolor brushes are sold at different prices and brands. These brushes are also classified according to hobby or professional use.
What does brush stroke mean?
The brush stroke is the mark made on a surface by a painter's brush.
Toothbrush
Toothbrushes are the most important personal care items used in oral care and cleaning. There are soft, medium hard-tipped toothbrushes according to the tooth structure. We can classify toothbrushes as battery-powered, rechargeable, and manual toothbrushes. For healthy teeth and mouth, it is necessary to brush at least twice a day after meals. Colorful, fun toothbrushes with different characters are produced for babies and children to encourage them to brush.
Cleaning brush
There are many subcategories in the cleaning brushes category. Wooden parquet brush, carpet brush, toilet brush, auto brush, upholstery brush, industrial cleaning brushes are some of them. As technology develops, cleaning brushes that make cleaning easier are produced. Detergent reservoir brushes can be given as the best example of these.
Cleaning brushes are made of various materials such as wood, plastic, rubber, and cleaning brush prices vary according to their quality.
A facial cleansing brush is one of the most popular cleansing brushes. A facial cleansing brush was developed to help wash the face, exfoliate to reveal softer skin and help minimize the appearance of pores, fine lines, and wrinkles.