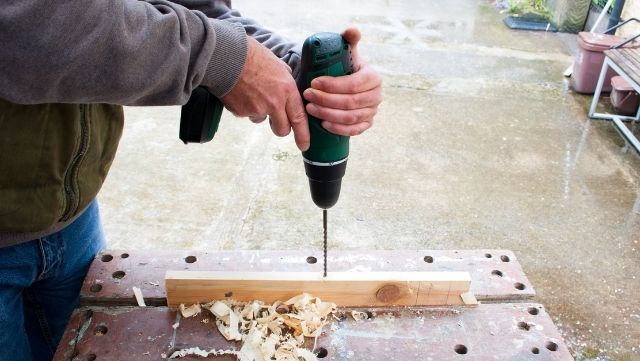 What is Drill, What are The Types and Functions?
What is a drill, what is it for?

The drill is an electronic hand tool used for drilling and countersinking, for drilling holes on many hard materials such as wood, concrete, steel, marble, and wood. Drills are often used in professional construction work, hobbies, and simple home renovations. There are also drills for expanding an existing hole, although their main function is to drill. It is in the class of hardware machines.
Two different methods are used in drilling with a drill. The first method is the hammer method, which is generally used in mining and drilling, and the second is the more common rotary drilling method. Accordingly, drills are divided into two as hammer drills and hammer drills.
There are two types of drill, cordless drill, and electric drill, depending on the way they work.
They are multi-purpose tools that can be adjusted by the sensitivity of the materials to be used. While drills used for hobby and renovation purposes in homes are simpler, drills produced for professional use are more complex. It consists of a drill, trigger button, electric motor, and impeller that gives the impact of punching effect. At the end of the motor shaft, there is a second wheel associated with the first gear, the drill bit and drill head are connected to this wheel. The rotational motion of the drill moves the small gear. The high speed of the small gear causes a higher power to occur in the second gear. You can find drill bit like a drill bit set or separately as an only masonry drill bit, electric drill bit, metal drill bit, etc, wood drill bits.
Drills are divided into two as impact drills and non-impact drills according to their usage areas.
The most popular ones are Dewalt drill, SDS drill and Makita drill. You can find prices and features of these brand drills by browsing the internet as a drill set.
What is a hammer drill and where is it used?
In hammer drill (impact drill), a certain impact is applied to the hard material to be drilled with reciprocating movements in addition to the rotation function during the drilling process, which makes the drilling process easier and faster. If the surface to be drilled is made of a hard, durable material such as concrete or metal, it will be appropriate to choose an impact drill.
What is a hammerless drill or regular drill, where is it used?
As the name suggests, non-impact or hammerless drills do not apply a blow to the material to be drilled, but only drill by rotating. The hammerless drill is mostly used for simple home remodeling work. For simple drilling and screwdriver work, impact-free drills are the right choice. You can also drill hard materials with a very high-speed drill.
According to the way they work, drills are classified as cordless impact drill, rechargeable impact drill and electric hammer drill, electric regular drill.
Cordless drill or electric drill should be preferred?

Electric drills are electrically connected cord-powered drills. Cordless or rechargeable drills are used wirelessly by charging. Cordless drills are more practical to use in places where there are no cables and sockets, to avoid dealing with cables and because of their portable features, it is necessary to prefer a rechargeable drill with a long battery to avoid time-consuming repairs. In addition, a cordless drill will be the savior for working in areas where there is no electricity connection or where electricity is frequently cut off. In such cases, especially in cases of power outages, cordless drills with LED lights will be the right choice to continue the work without interruption.
It is more appropriate to choose electric drills for uninterrupted use in professional use or a very long renovation job. There are also pneumatic drills used in heavy industry, their other name is a pneumatic drill. The working principles of pneumatic drills are different from the others, they are used with a compressor. A pillar drill is another type of drill.
What is the hammer drill and where is it used?

Very powerful drills that break stones, drill holes in concrete, break hard floors in mine exploration and remove asphalt are called hammer drills and are commonly used in the municipal, archeology, mining, and construction industries.
What should be considered when purchasing a drill?
When purchasing a drill, it is important to choose the right drill that fits the need. A cordless hammer drill will be sufficient for simple jobs at home. In addition, being a light drill provides ease of use. However, a more equipped drill should be preferred if it will be used in professional work and continuously.
When choosing a drill, attention should be paid to the duration of use. If it is to be used for long-term jobs, it is a wired electric drill, which is a more suitable choice.