Sort
View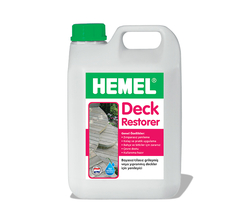 ADD TO CART
Total 1 products are displayed.
Deck cleaning, deck restoring
Although deck products vary according to use and care, their colors may fade and become gray in places over time. To protect the outer surfaces of wooden products used indoors and outdoors against factors such as weather conditions, dampness, and pollution, it is necessary to clean and maintain them with natural and high-quality deck cleaner and wood deck renewal products.
Which deck restorer, deck cleaning product should be used?
The products used for wood deck cleaning and deck renewal should be natural oil and water-based deck cleaners that will protect the natural structure of the wood, do not spoil it, and even reveal the natural appearance of the wood.
The most important purpose for wood cleaning is that it can preserve the type and texture of the wood after certain processes for cleaning and maintenance. Thus, wood and deck remain both protected from external factors and without losing their natural properties by breathing. Deck cleaners, ready to use and do not require thinning, provide an opportunity for practical deck cleaning and deck renewal.
Safe deck cleaner should be preferred for human health. Water-based odorless deck restorer and deck cleaning products are the most preferred ones.
Benefits of using a deck cleaner, deck restorer for deck care
With a quality deck cleaner, you can clean and renew the deck without sanding or scraper. For example, if the deck surface you use is serrated, it is cleaned and renewed with deck cleaner without the need for scraper, and then UV-protected maintenance is completed with deck oil, which is protected against sunlight. Thus, you can return your grayed deck, worn deck equipment to the first day's look.
With Hemel Deck Oil, water-based deck restorer, deck cleaner, Hemel Deck Restorer, which provides high protection against sunlight, ultraviolet deck oil, colored natural deck oil, make your deck clean and new.
See and buy Hemel's water-based odorless safe deck restorer deck cleaner products, deck cleaner prices!
How often should deck maintenance and deck cleaning be done?
Although it varies according to the type of wood deck and the area of ​​use, and the conditions of use, the most suitable deck cleaning and deck restoring time for is autumn, just before winter. If a good deck cleaning and deck maintenance are done, it is not necessary to make a scraper for a long time, and your wood will be protected. It is good for outdoor wood products solid parquet, laminated parquet, terrace coverings, verandas, structural woods, sea piers, decks, joinery, interior doors, exterior doors, garden fences, and garden furniture, such as moisture, pollution, etc. Durable and effective wood cleaning, maintenance, and protection with natural products against external factors is a very important condition.