Sort
View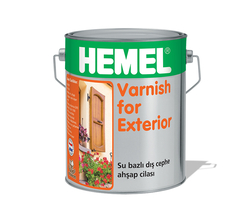 ADD TO CART
Total 1 products are displayed.
What does wood varnish do?
The process of applying wood varnish on wooden surfaces ensures that the wood looks beautiful, protects it against external factors, prevents staining, and makes cleaning easier. Wood polish is preferred to remove the defects of the old varnished surface and achieve a brighter appearance.
Interior wood varnish is used in many areas such as interior wooden furniture, interior wooden ceiling, etc. You can achieve a more aesthetic appearance in your spaces by applying natural touches with wood paints and wood varnishes suitable for your homes and workplaces where you spend most of your time.
Using quality interior wood varnish on paneling, wooden ceilings and interior woods extend the wood's life and preserve its natural appearance. Wood varnish, which is especially preferred in tree houses, is essential to reveal the beauty of the house's wood texture and protect it against scratches.
The wood varnish, which is an indispensable product of your wooden house and mountain hotels, is transparent, and you can color your wood with a quality wood colorant if you wish.
What kind of wood varnish should we choose?
Beeswax wood varnish protects and strengthens wooden surfaces. Beeswax wood varnish is the most suitable wood varnish for light woods such as oak and pine, where oily varnishes can darken their grain.
The most important thing to be aware of in the wood varnishes you will use indoors should be that the wood varnish does not contain harmful substances. A chemical-based varnish that we will breathe indoors will pose a threat to our health. For this reason, it would be the best choice to use water-based, odorless EN 71-3 certified, safe for children, and environmentally friendly natural wood varnish.
In terms of usage and application, the most suitable natural wood varnish should be ready-to-use, a wood varnish that can be used without thinning.
If you are looking for a quality water-based transparent interior wood varnish that combines all these features, the best choice would be HEMEL® Varnish for Interior. This wood varnish, which you can use on all your wooden interior woods with peace of mind, is also an environmentally friendly, lead-free wood varnish. Hemel manufactures wood varnish in 0.75 liters, 2.5 liters, and 15-liter packages for larger interiors. Click to get information about wood varnish prices and to buy wood varnish!
For exterior woods, industrial water-based exterior topcoat wood varnish provides strong protection with its water-repellent feature. It is a wood varnish used for industrial finishing such as door and window joinery, shutters, facade coverings, balcony railings, fences, pergolas. Exterior topcoat varnish provides resistance to sunlight when used with Hickson Decor Aqua Decorative Wood  Colorants. It is an industrial varnish that does not peel off and crack. We recommend using Hickson Decor® Aqua Industrial-Varnish, a water-based natural varnish, as an exterior finishing wood varnish.
The topcoat wood varnish we recommend for exterior woods, Hickson Decor® Aqua Industrial-Varnish, is produced in 15 liters as it is applied to large surfaces. They are used on treehouses, chalets, gazebos, and many surfaces.
How is a wood varnish applied?
The following information can be given in response to the question of how to make wood varnish. Interior wood varnish is easily applied to the wood surface with a brush or roller. It is transparent in color; if you wish, you can color your wood with a quality wood colorant. Hickson Decor Aqua Decorative Colorant, a water-based odorless wood colorant, will be the best choice in this regard.
Exterior water-based topcoat wood varnish Hickson Decor® Aqua Industrial-Varnish is offered for sale in 15 liters as it is applied to large surfaces. Varnish is applied with a spray gun or brush. Since it is used as an exterior finishing varnish, it is a water-repellent wood varnish and is extra resistant to external weather conditions.