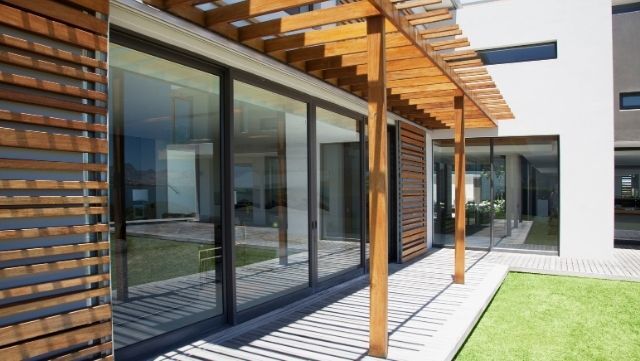 What Is A Pergola, What Are The Ideas, How To Build It?
What is a pergola?
Pergola is derived from the Latin word "pergule", which means fringe, and is used in the Italian language for canopy. Pergola is an awning made to create a canopy by closing the openings horizontally, twisted, and in the form of a roof. Another definition of the pergola is made as a shady walkway or walkway equipped with ivy plants by planting columns or poles next to it along a certain line. Pergola is also spelled and sung as a pergola.
Pergola awning is an opening and closing system known for its affordable price, high quality, durability, and resistance to outdoor weather conditions. Pergola awnings are used in balconies, poolside, cafes, verandas, and many other roofless areas. The dimensions of the pergolas vary according to the size of the area to be built, and the material to be used according to the environment of the area. In this way, special production pergola awnings are produced.
How to build a pergola?
A pergola is essentially an open roof supported by supports or columns. They're ideal for allowing trailing plants like wisteria or honeysuckle to grow up and over them, as well as giving pleasant shade in a bright spot. Pergolas can be used to shade a seating area at the entrance to your garden, over a pathway, against a wall to shade a seating space, or to frame an adornment.
Pergola kits are available, but they are also simple to build from scratch using treated softwood. Before you begin, apply a wood preservative to the cut ends of the timbers and the foot of the posts.
You can find a detailed explanation about how to build a pergola on the web and buy suitable pergola kits for your decoration.
There are various pergola ideas for decoration. A Garden pergola ornated with good lighting would be one of the best pergola ideas, or a well-decorated pergola with roof would be a good choice.
Pergola awning systems can be used open, if desired, by surrounding it with glass. With a pergola system that is enclosed, a winter garden atmosphere can be created in homes, cafes, and restaurants. While the Pergola awning system protects you from the sun in summer with its special awning fabric, it will protect you from the sun in the summer as a sunshade that can be opened and closed with special awning fabric, and as a raincoat in rainy weather with its retractable roof and waterproof awning fabric.
Pergola awnings are made of wood or aluminum and their derivative materials. With wooden pergolas, an authentic atmosphere is created in the applied spaces, and they also add a stylish visuality. These decorative, at the same time, functional wooden pergolas can be painted in the desired color with wood paints, making them a great harmony with the decoration of the environment. Hickson Decor Aqua Decorative Colorant water-based semi-transparent wood colorant color the pergolas with the rich color pigments it contains, while at the same time preserving the natural texture of the wood and even revealing its beauty. The wooden pergola should be maintained regularly so that it can be used for many years as it was on the first day.
The choice of wooden pergola is very important in pergola systems. First of all, the right wood should be used in pergola production. Choosing the wrong tree will shorten the life of the system. Teak wood, which is one of the heavy and durable trees, is generally used in wooden pergola systems, teak tree has a long life of 50 years.
Pergola prices vary according to the material, size, and characteristics of the pergola. For example, using teak wood in wooden pergolas raises the price, because teak wood is the most durable and expensive tree type. Pergola models and the fabrics to be used are also a factor affecting the price. The material and quality of the pergola foot also cause price differences. There are different models such as U form pergola leg, table pergola leg. There are different types of pergola such as a garden pergola, pergola with roof, a wooden pergola, corner pergola.
What kind of steel should I use for a metal pergola?
Treated color bond steel is the most commonly utilized steel for metal pergola construction. A steel pergola is not only more resistant to harsh weather and requires less care, but it is also simpler to construct than a timber pergola.