WORKBENCHES
20 April 2021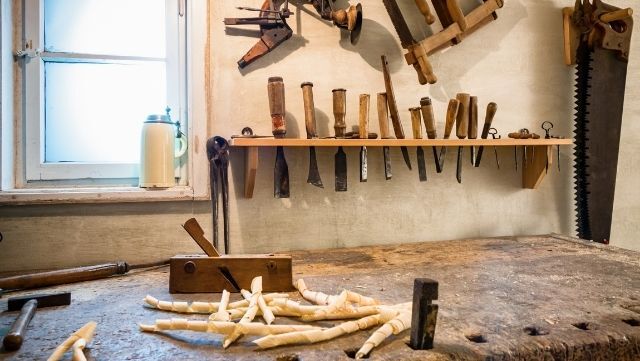 What Is A Workbench, What Are The Types, What Is It Used For?
A workbench is a strong table used for manual labor. They range from simple flat surfaces to highly complex designs that could be considered tools in their own right. Workbenches range in size from small jewelers' benches to massive stairwell builders' benches. Almost all workbenches are rectangular, with the surface, corners, and edges frequently being used as flat/square and dimension standards. Another definition of workbench can be made as a flat surface where processes such as engraving, cutting, sanding, torture are performed.
Workbenches are equipment that can be kept on all hand tools, work tools, and works at the same time, can be worked on comfortably and accelerate the work structure. In addition, thanks to the workbenches, all tools are safely stored and a messy and confusing appearance in the work environment is prevented.
Wood workbench It is convenient to use a carpenter workbench in the art of wood carving. It is important to use a correct and good wood workbench so that the job is done properly and this art can be done properly.
There are benches for different usage purposes such as kitchen workbench, industrial workbench, wood workbench, a metal workbench. Some have cabinets and drawers, while others use additional tools.
Workbenches have different sizes, different classes. There are different workbenches as per their features. Folding workbench or foldable workbench is one of them. The folding workbench is easy to use. You can use it anywhere. A portable workbench also has the same function as a folding workbench, they are all practical for the user.
The shed workbench is intended to maximize the space in your shed, garage, or workshop. The steel workbench range is simple to clean and completely customizable to meet your needs, whether you need a garage workbench, shed workbench, workshop bench, or workbenches for a warehouse or commercial operation.
The best garage workbench for your garage is determined by several factors, including the field of work being done and the amount of free space available in the garage. If you decide to buy a premade workbench, you can select from a variety of workbenches on the market. There are currently flip-up, flip-down, and portable options available in small and large sizes. Garage workbench designs are also available in a variety of materials such as metal and wood. The right answer to selecting the best garage workbench model is determining how much space is available, what will be done in this area, and then selecting accordingly.
The most popular workbenches are the Black and Decker workbench, Bosch workbench, and Screwfix workbench. If you like to make your workbenches more stylish, you can buy good workbench dye to renew and color these workbenches.
How to make a workbench, how to build a workbench?
To make a homemade workbench easy and cheap way. You can buy the necessary items and follow the instructions. That's all. To build your small workbench, you can use wood, metal, or MDF as per your budget and work plan.